hot picks week 23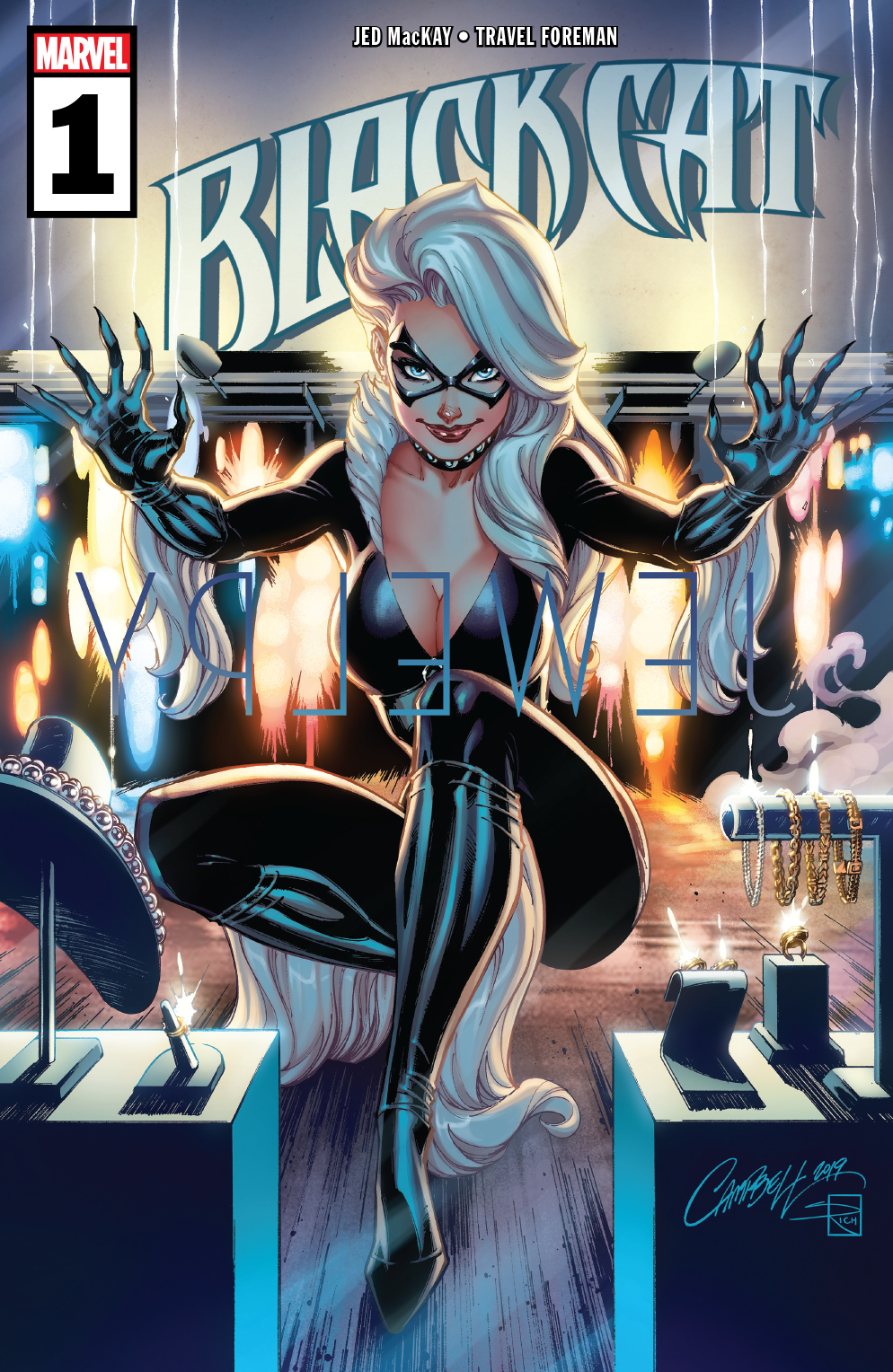 Every week Pep calls attention to those books and graphic novels which stand out from all the rest. These titles from Premier Vendors and independent publishers should be at the top of your list, and can be found at your local comic shop May 29.
Comics
BLACK CAT #1
MARVEL COMICS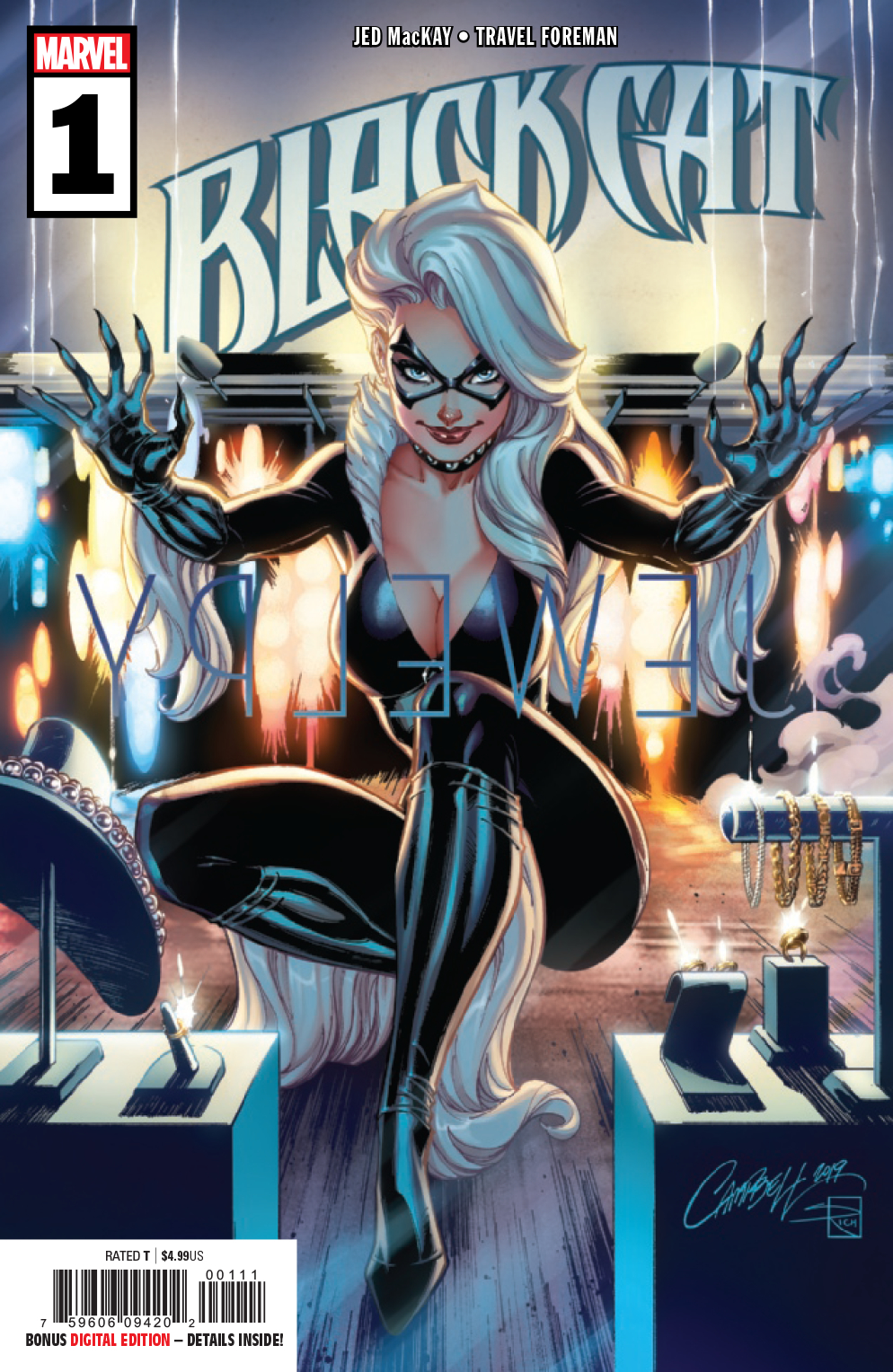 APR190773
(W) Jed MacKay (A) Travel Foreman, Michael Dowling, Nao Fuji (CA) J. Scott Campbell
SPINNING OUT OF THE PAGES OF AMAZING SPIDER-MAN!
ALL-NEW ONGOING SERIES!
The Black Cat is back and starring in her first ever ongoing series! Felicia Hardy has a taste for the finer things in life and a certain set of skills that can get her into any mansion, vault or museum to...procure said finer things. But due to her actions in AMAZING SPIDER-MAN, Felicia's not only on the run from the police but also by the New York Theives Guild and their boss ODESSA DRAKE! High-octane heists, climactic chases and twist after twist that will keep you on the edge of your seat like a cat on a perch. IN THIS ISSUE: Find out a secret from Cat's past in a bonus story that sets a foundation for the future! All this and an all-new MARVEL MEOW short story by Nao Fuji!
Rated T
In Shops: Jun 05, 2019
SRP: $4.99
MARVEL PREVIEWS Page #26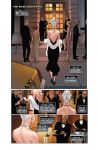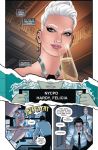 WAR OF REALMS #5 (OF 6) WR
MARVEL COMICS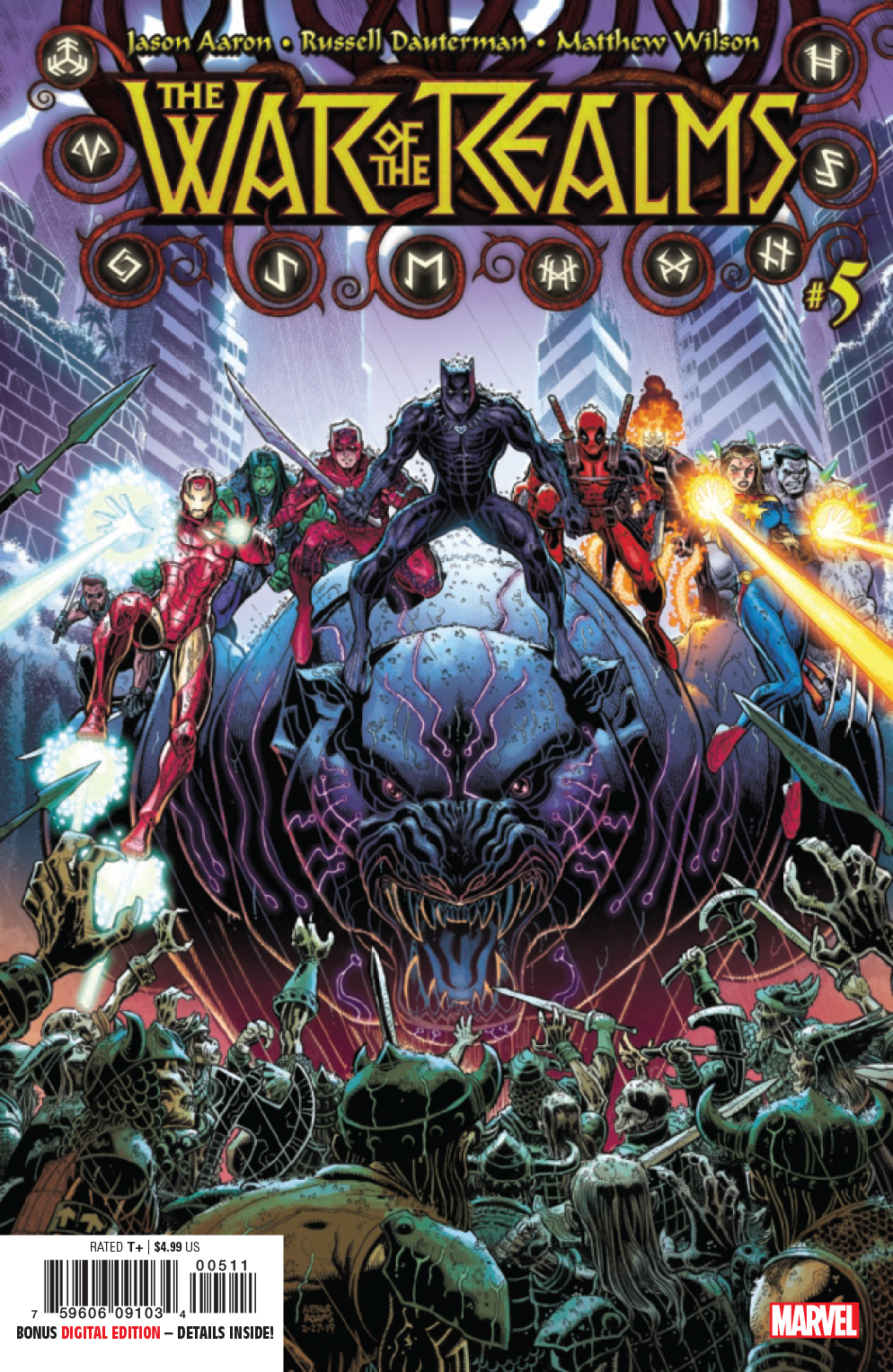 APR190720
(W) Jason Aaron (A) Russell Dauterman (CA) Arthur Adams
MIDGARD'S LAST STAND
Malekith's army gets a whole new crop of recruits - the dead! As Midgard transforms under the rule of Malekith and his allies, the dead rise up to form a new Niffleheim! The Black Panther calls in every hero on his roster to fight for Earth, from Spider-Man and the Spiders of Hel to Ghost Rider and Balder the Brave. But if there's any hope for the Ten Realms, it'll come from the skies...
Rated T+
In Shops: Jun 05, 2019
SRP: $4.99
MARVEL PREVIEWS Page #3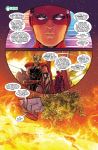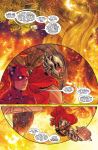 BATMAN #72
DC COMICS APR190446
(W) Tom King (A) Mikel Janin (CA) David Finch
"The Fall and the Fallen" part three! Is this the end of Gotham City? Bane's army of villains is taking over the city, and Batman's back is against the wall. With all the things Bane has done to him over the last year-from breaking up his wedding to trying to assassinate Nightwing, and then invading Batman's mind to expose his most terrible fears-could this be the worst hate the Caped Crusader has ever encountered?
RATED T
In Shops: Jun 05, 2019
SRP: $3.99
DC PREVIEWS Page #12
DCEASED #2 (OF 6)
DC COMICS APR190459
(W) Tom Taylor (A) Trevor Hairsine, Stefano Guadiano (CA) Leinil Francis Yu
Millions are dying every minute. Heroes and villains alike are falling. Can the Justice League unite to find a way to stop the spread of death? Can they save humanity from extinction? Can they even save themselves? The key to survival may hinge on the last moments of one of the World's Finest Heroes...
RATED T+
In Shops: Jun 05, 2019
SRP: $3.99
DC PREVIEWS Page #19
WALKING DEAD #192 CVR A ADLARD & STEWART (MR)
IMAGE COMICS APR190202
(W) Robert Kirkman (A) Stefano Gaudiano, Cliff Rathburn (CA) Dave Stewart (A/CA) Charlie Adlard
"AFTERMATH": Carl fights for the Commonwealth... but who is he fighting against?
In Shops: Jun 05, 2019
SRP: $3.99
PREVIEWS Page #89
THUMBS #1 (OF 5) (MR)
IMAGE COMICS APR190011
(W) Sean Lewis (A/CA) Hayden Sherman
Imagine someone like, say, Mark Zuckerberg created his own army of tech-obsessed teens and directed them to take on the government. What would the fallout be? Charley "Thumbs" Fellows is a member of just such an army. Poor and raised by the influential MOM app, he finds himself in the center of a war. The Social Network meets Blade Runner in this big event book from the team that brought you the hit series THE FEW!
In Shops: Jun 05, 2019
SRP: $4.99
PREVIEWS Page #44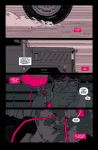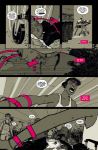 DISNEY FROZEN HERO WITHIN #1 KAWAII CREATIVE STUDIO
DARK HORSE COMICS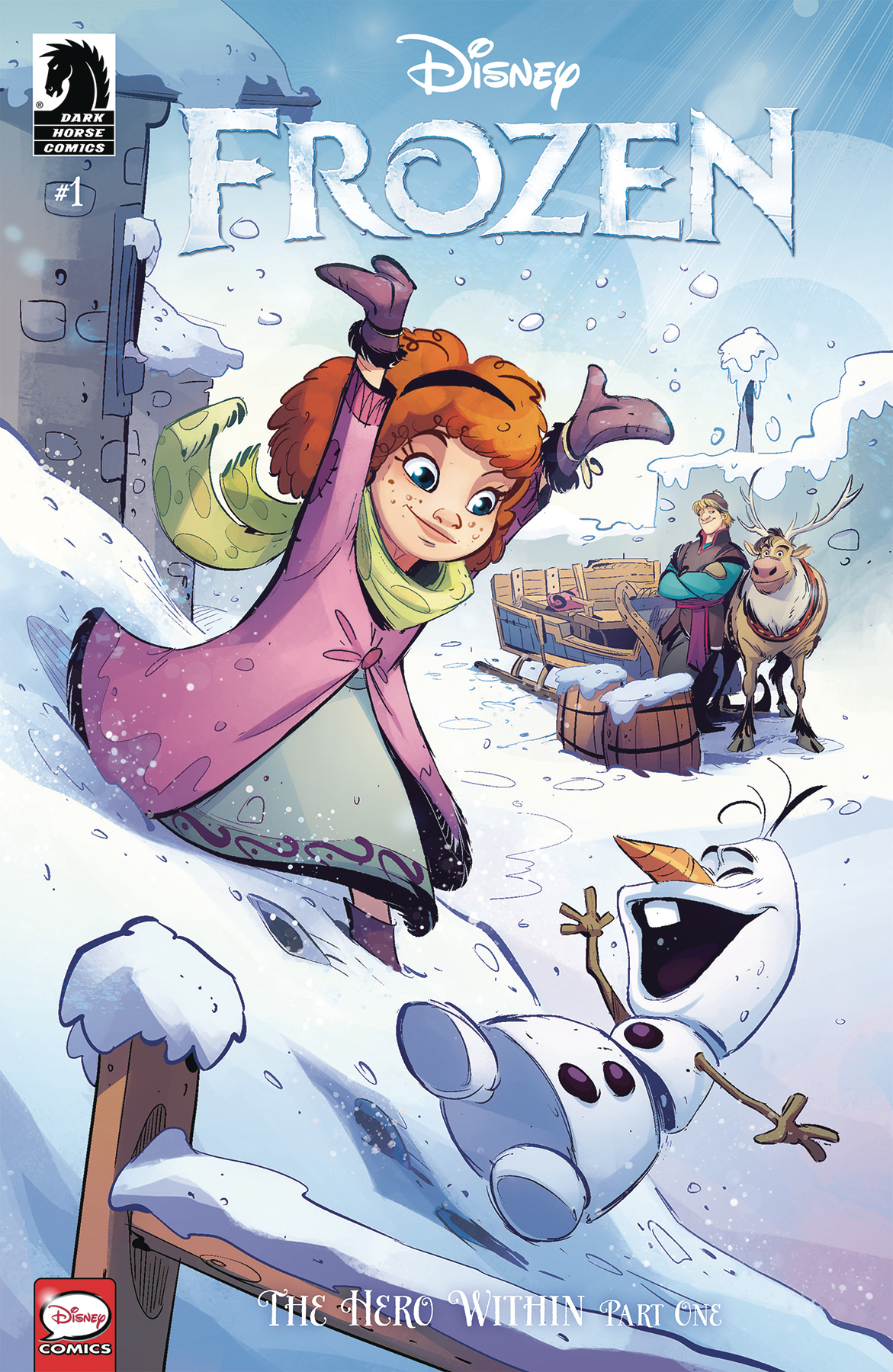 APR190215
(W) Joe Caramagna (A/CA) Kawaii Creative Studio
Olaf's friend from the orphanage, Hedda, receives a personal invitation to Arendelle Castle. Although she has an amazing imagination, this is something she never dreamed would happen, especially with the way some of the other kids treat her. But as Kristoff knows and tells, life at an orphanage can be unpredictable and full of surprises . . .
o Meet Hedda, a new character in the Frozen comic book series, who has a wild imagination!
o Hear a story from Kristoff's past!
o Frozen 2 in theaters fall 2019!
In Shops: Jun 05, 2019
SRP: $3.99
PREVIEWS Page #94
STAR WARS ADVENTURES #22 CVR A CHARRETIER
IDW PUBLISHING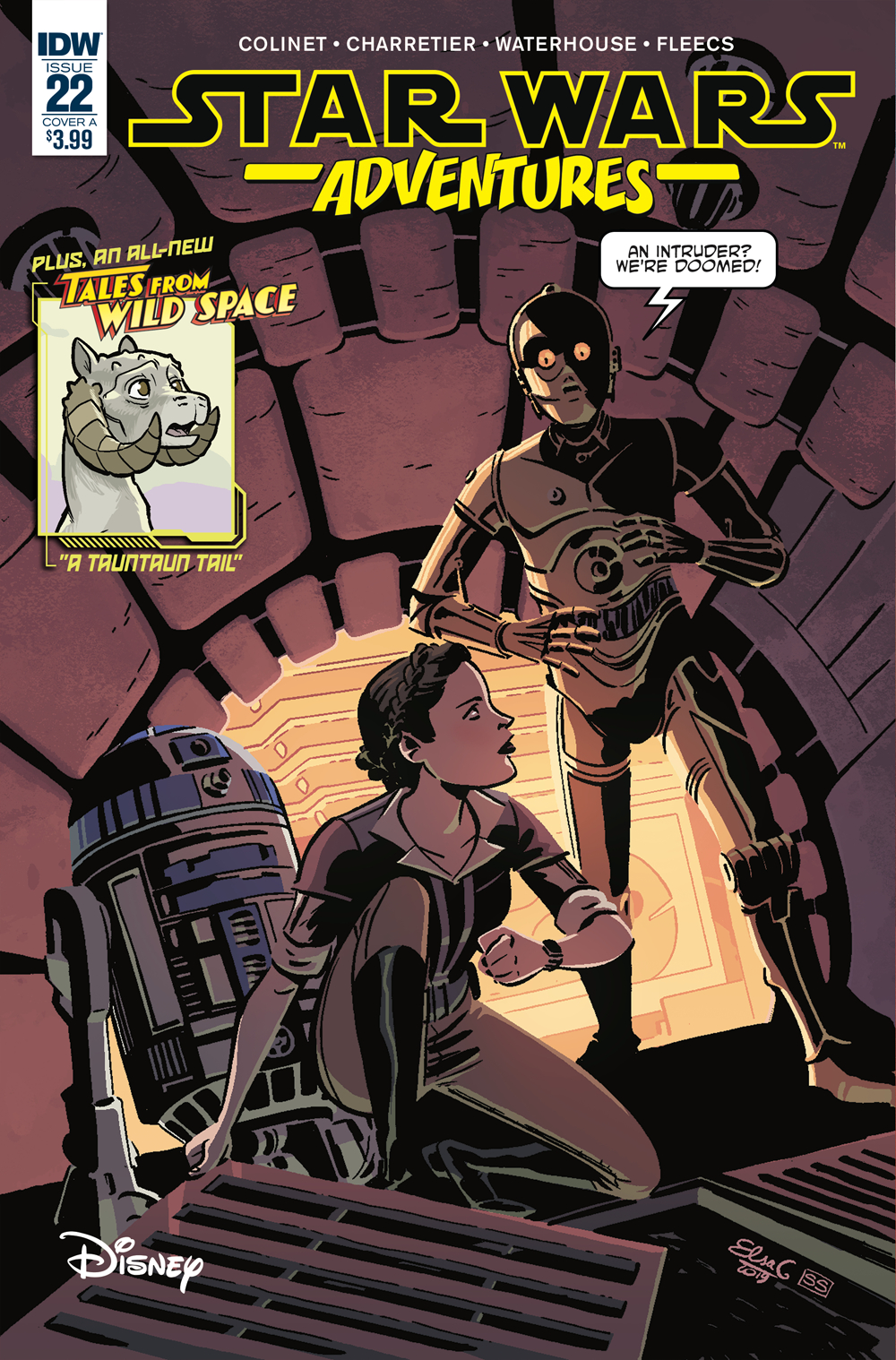 MAR190644
(W) Elsa Charretier, Pierrick Colinet (A/CA) Elsa Charretier
After losing the man she loves to a bounty hunter, Princess Leia embarks on a dangerous mission with R2-D2 and C-3PO in this exciting tale set just after The Empire Strikes Back! The second of three issues spotlighting the Original Trilogy! Variant cover by Eisner Award winner Michael Avon Oeming, co-creator of Powers!
In Shops: Jun 05, 2019
SRP: $3.99
PREVIEWS Page #152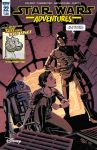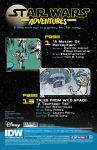 BETTIE PAGE UNBOUND #1 CVR A ROYLE
DYNAMITE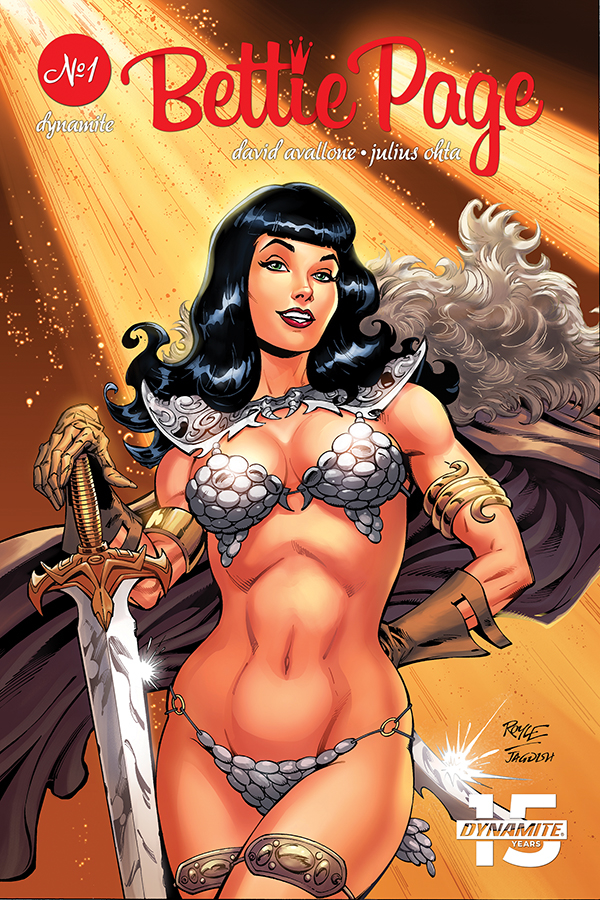 FEB191036
(W) David Avallone (A) Julius Ohta (CA) John Royle
When you step through an inter-dimensional gate the results are unpredictable: sometimes you find yourself in a bikini made of coins with a sword in your hand! Reality is shattering, the gate has been opened for an invasion from the Great Old Ones...and only model spy BETTIE PAGE can save the world in this epic four-part miniseries from David Avallone (ELVIRA: MISTRESS OF THE DARK) and Julius Ohta. The Crisis on Infinite Betties begins in BETTIE PAGE: UNBOUND #1!
In Shops: May 29, 2019
SRP: $3.99
PREVIEWS Page #178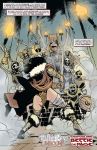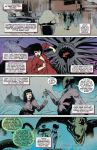 BUFFY THE VAMPIRE SLAYER #5 CVR A ASPINALL
BOOM! STUDIOS APR191189
(W) Jordie Bellaire (A) David Lopez (CA) Marc Aspinall
After the stunning events of Issue #4, the Scooby Gang tries to recover and deal with a new threat that's arising within the very halls of Sunnydale High itself.
In Shops: Jun 05, 2019
SRP: $3.99
PREVIEWS Page #206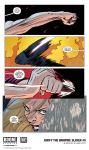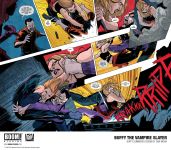 LADY MECHANIKA SANGRE #1 (OF 5) MAIN CVR
BENITEZ PRODUCTIONS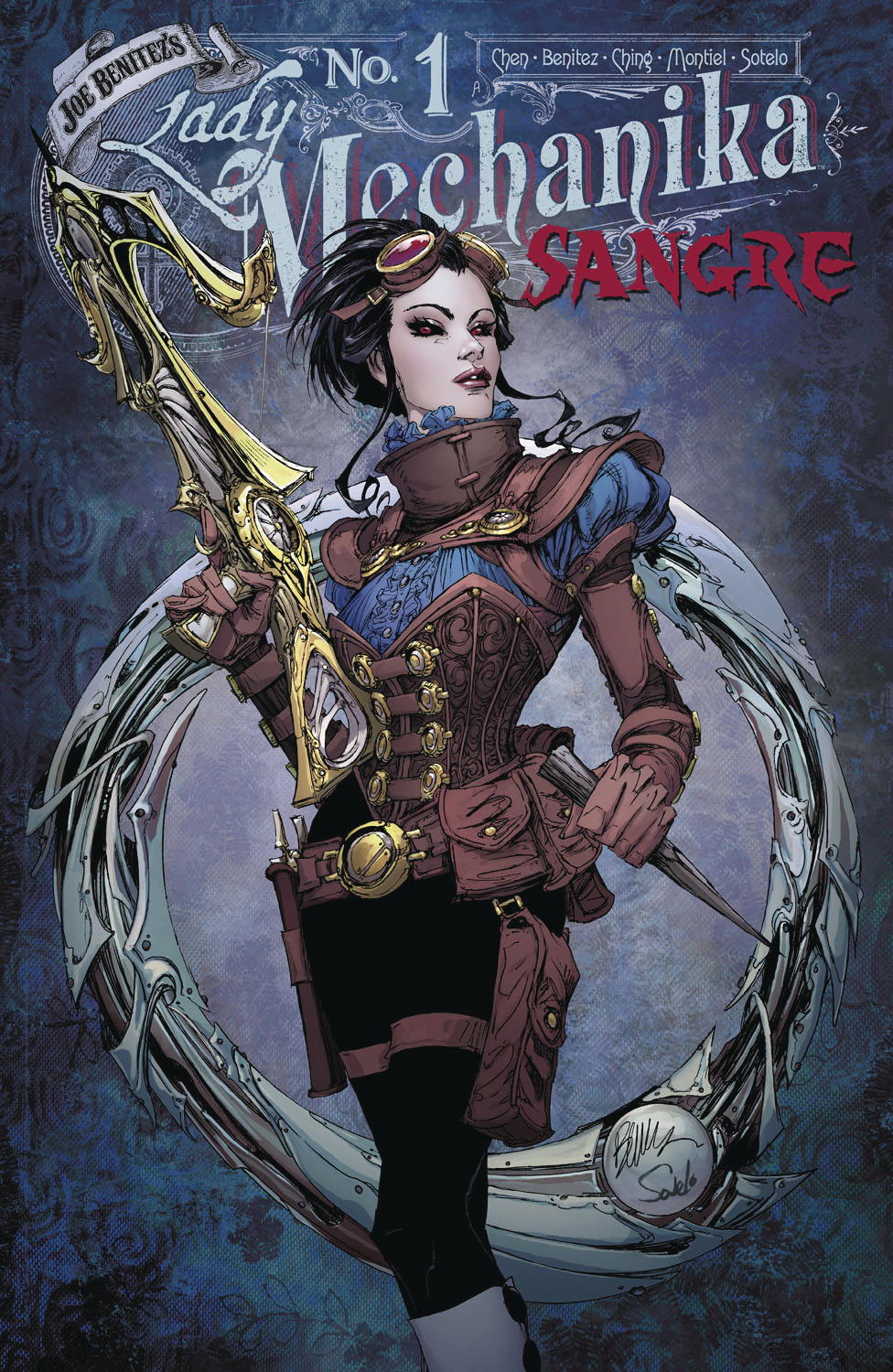 APR191492
(W) Joe Benitez, M. M. Chen (A) Martin Montiel (A/CA) Brian Ching, Joe Benitez
Lady Mechanika journeys to the Spanish countryside to hunt a demonic creature allegedly stalking the local bar n's son, but she quickly begins to suspect there's more to the case than meets the eye. What dark secrets are the Bar n and his wife so desperately trying to hide? Features a main story drawn by guest artist Brian Ching (Supergirl, Star Wars) with a prologue by Benitez and Montiel.
In Shops: Jun 05, 2019
SRP: $3.99
PREVIEWS Page #280
IGNITED #1 CVR A MCKONE (MR)
HUMANOIDS INC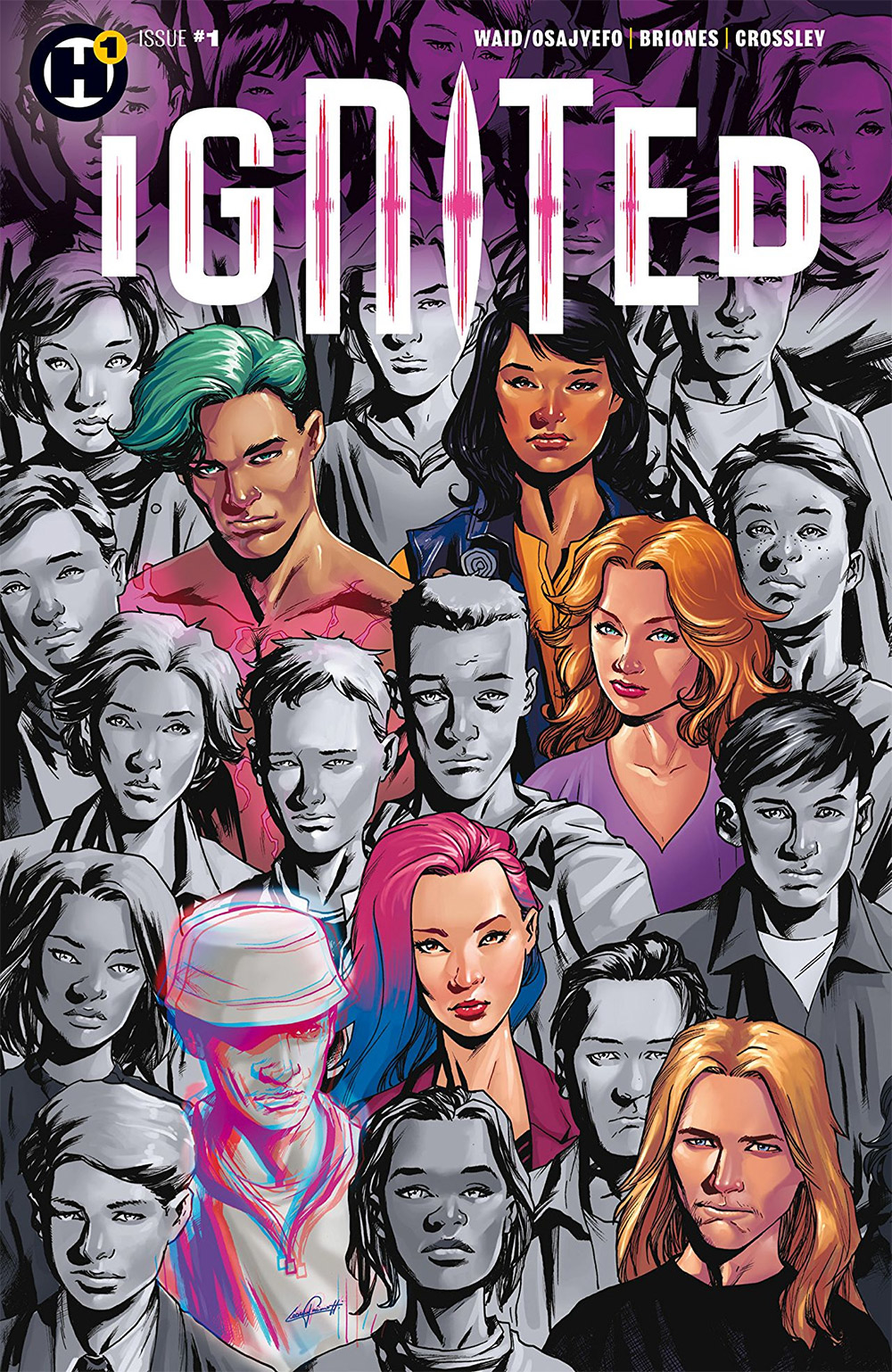 APR191783
(W) Mark Waid, Kwanza Osajyefo (A) Philippe Briones (CA) Mike McKone
Welcome to the H1 Universe and Ignited, Humanoids' first ever ongoing super-powered series-brought to you by an explosive team: writers Mark Waid (Kingdom Come) and Kwanza Osajyefo (Black AF), and artist Phil Briones (Aquaman), with covers by John Cassaday and Yanick Paquette! It's the first day back at Phoenix Academy High, but this year there's no back to school excitement in the air as returning students and faculty are haunted by memories of last year's horrific attack. So many friends and colleagues were lost, and some of those who survived underwent changes; they Ignited, gaining supernatural abilities they barely understand. Little do they know this is just the beginning!
In Shops: Jun 05, 2019
SRP: $3.99
PREVIEWS Page #322
Graphic Novels & Trade Paperbacks
DREAMING TP VOL 01 PATHWAYS AND EMANATIONS (MR)
DC COMICS MAR190577
(W) Si Spurrier, Neil Gaiman (A) Bilquis Evely, Abigail Larson (CA) Jae Lee
In these tales from The Dreaming #1-6 and THE Sandman Universe Special #1, Lord Daniel's absence triggers crimes and calamities that consume the lives of those already tangled in his fate. Until he is found, his realm's residents must protect its broken borders alone. But the most senior story-tellers are tormented by invasive secrets, Lucien is doubting his own mind, and beyond the gates, something horrific awaits with tooth and talon.
In Shops: Jun 05, 2019
SRP: $16.99
DC PREVIEWS Page #75
DIE TP VOL 01 FANTASY HEARTBREAKER (MR)
IMAGE COMICS MAR190080
(W) Kieron Gillen (A/CA) Stephanie Hans
THE WICKED + THE DIVINE writer KIERON GILLEN teams up with artist supernova STEPHANIE HANS (THE WICKED + THE DIVINE, Journey Into Mystery) for her first ongoing comic! DIE is a pitch-black fantasy where a group of forty-something adults have to deal with the returning, unearthly horror they only just survived as teenage role-players. If KIERON's in a rush, he describes it as "Goth Jumanji", but that's only the tip of this critically acclaimed obsidian iceberg. Collects DIE #1-5.
In Shops: Jun 05, 2019
SRP: $9.99
PREVIEWS Page #70
MINECRAFT TP VOL 01
DARK HORSE COMICS MAR190319
(W) Sfe R. Monster (A/CA) Sarah Graley
The first graphic novel set in the world of the gaming phenomenon Minecraft!

Tyler is your everyday kid whose life is changed when his family has to move from the town he's always known. Thankfully, Tyler has a strong group of friends forever linked in the world of Minecraft! Tyler, along with his friends Evan, Candace, Tobi, and Grace, have been going on countless adventures together across the expanses of the Overworld and are in need of a new challenge. The group decides to go on the Ultimate Quest-to travel to the End and face off against the ender dragon!

o Over 144 Million copies of Minecraft sold on all platforms!

o Minecraft is the second best-selling game of all time!
In Shops: Jun 05, 2019
SRP: $9.99
PREVIEWS Page #116
MY HERO ACADEMIA GN VOL 19
VIZ MEDIA LLC APR192159
(W) Kouhei Horikoshi (A/CA) Kouhei Horikoshi
In the wake of tragedy, Class 1-A prepares for the upcoming culture festival. While the students are busy planning for success, other forces are at work with their own agendas, and Midoriya, amid the preparations, continues to train with All Might. But when he runs into the failed hero Gentle Criminal, what lesson will he learn?
For teen audiences.
In Shops: Jun 05, 2019
SRP: $9.99
PREVIEWS Page #415
Merchandise
MARVEL PREMIERE AVENGERS 3 IRON MAN MK50 STATUE
DIAMOND SELECT TOYS LLC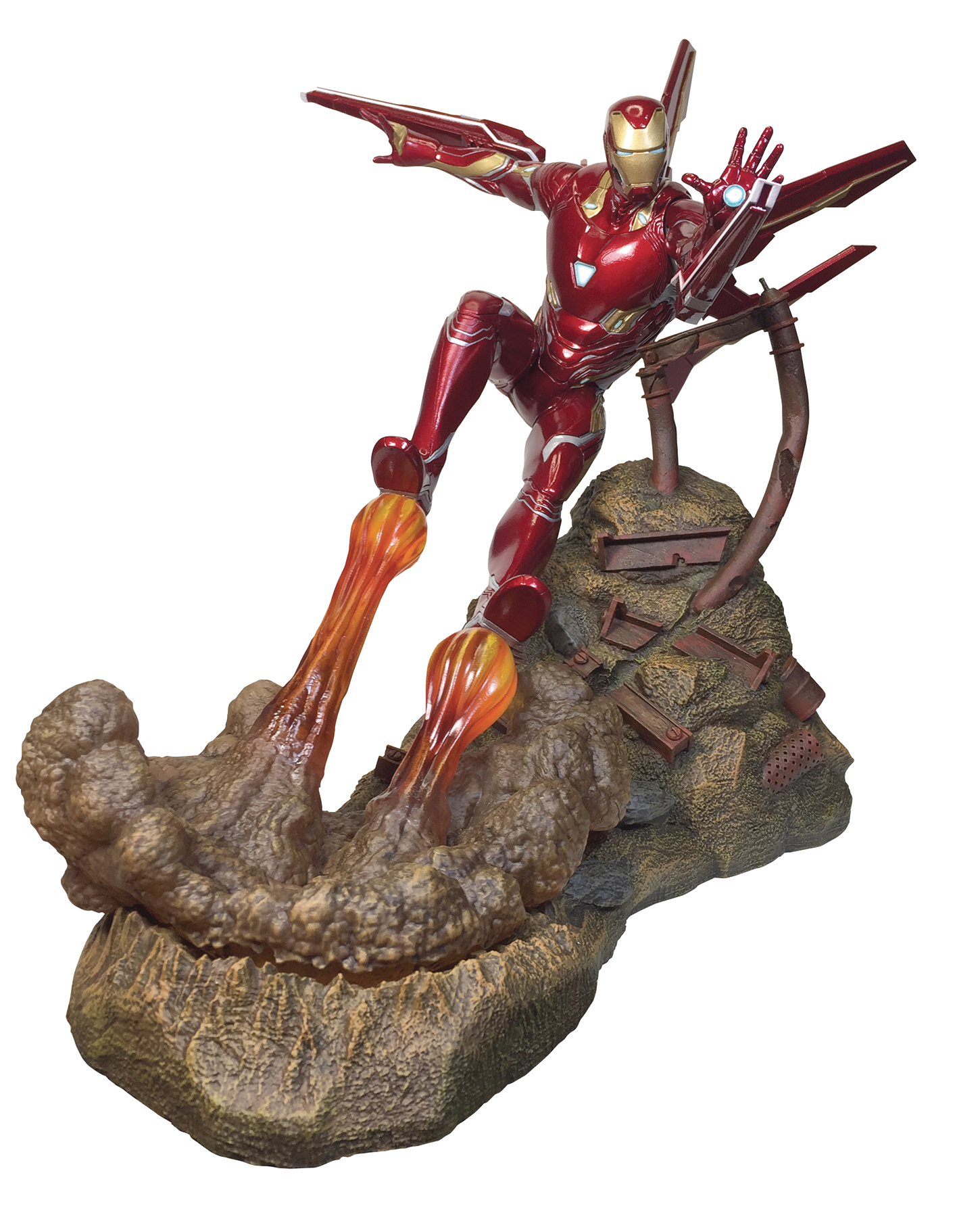 SEP182340
A Diamond Select Toys release! Repulsors to full! This resin statue of Iron Man in his MK50 armor shows him landing on a pile of rubble even as he unleashes a blistering barrage at his target. This statue is limited to a production run of 3,000 pieces, and each statue is hand-numbered, with an accompanying certificate of authenticity in a full-color, hand-numbered box. Designed by Joe Allard and sculpted by Gentle Giant Studios!
In Shops: Jun 05, 2019
SRP: $150.00
PREVIEWS Page #1022
DC COMICS SHAZAM VINIMATE
DIAMOND SELECT TOYS LLC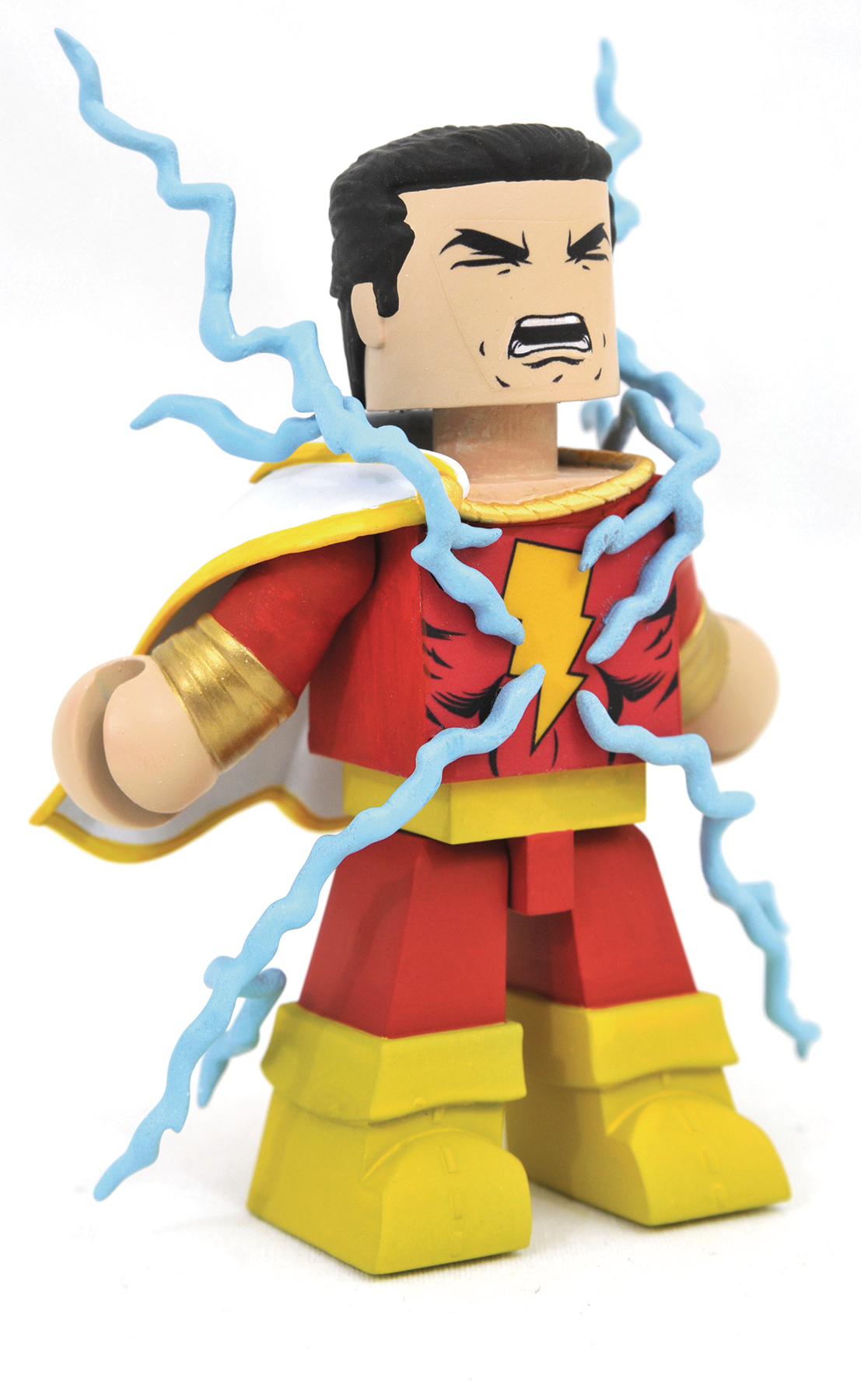 JAN192544
A Diamond Select Toys release! The DC Comics VInimates line keeps going with another assortment of the DCU's greatest heroes and villains! This new batch includes Justice League member Aquaman in his classic costume, Shazam! in his modern garb, and the ruler of Apokolips - Darkseid! Each 4-inch vinyl figure is sculpted in the Miniamtes block-figure style, striking a pose straight from the comics, and comes packaged in a full-color window box. Designed by Barry Bradfield!
In Shops: Jun 05, 2019
SRP: $9.99
PREVIEWS Page #1016
ONE-12 COLLECTIVE MARVEL SPIDER-MAN HOMECOMING AF (JUL
MEZCO TOYS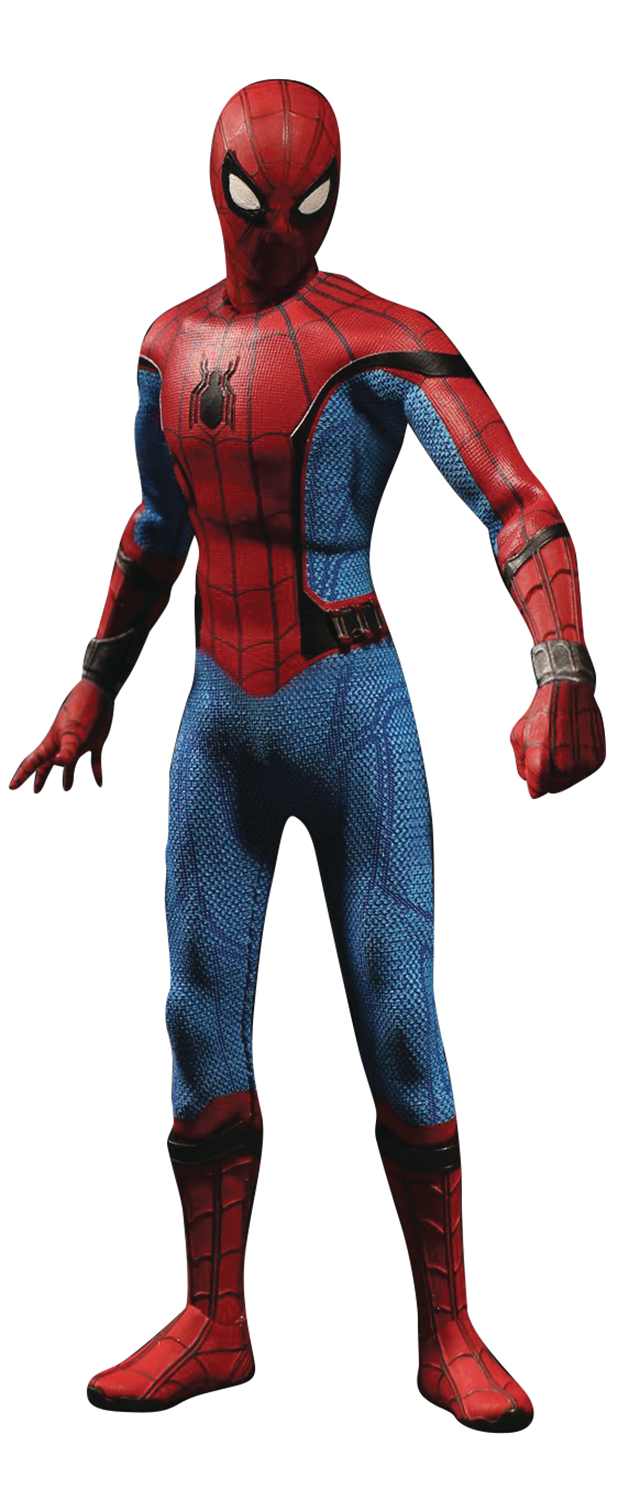 OCT172449
A young Peter Parker/Spider-Man who made his sensational debut in Captain America: Civil War, begins to navigate his newfound identity as the web-slinging super hero in Spider-Man: Homecoming. Thrilled by his experience with the Avengers, Peter returns home, where he lives with his Aunt May, under the watchful eye of his new mentor Tony Stark. Peter tries to fall back into his normal daily routine - distracted by thoughts of proving himself to be more than just your friendly neighborhood Spider-Man - but when the Vulture emerges as a new villain, everything that Peter holds most important will be threatened. Spider-Man Homecoming joins the One:12 collective. With a comprehensively detailed film-accurate outfit and unique character specific accessories. Each One:12 Collective Spider-Man Homecoming figure is packaged in a deluxe, collector friendly box, designed with collectors in mind, there are no twist ties for easy in and out of package display.
In Shops: Jun 05, 2019
SRP: $80.00
PREVIEWS Page #509
MARVEL HEROCLIX AVENGERS BLACK PANTHER ILLUMINATI BOOSTER BK
WIZKIDS/NECA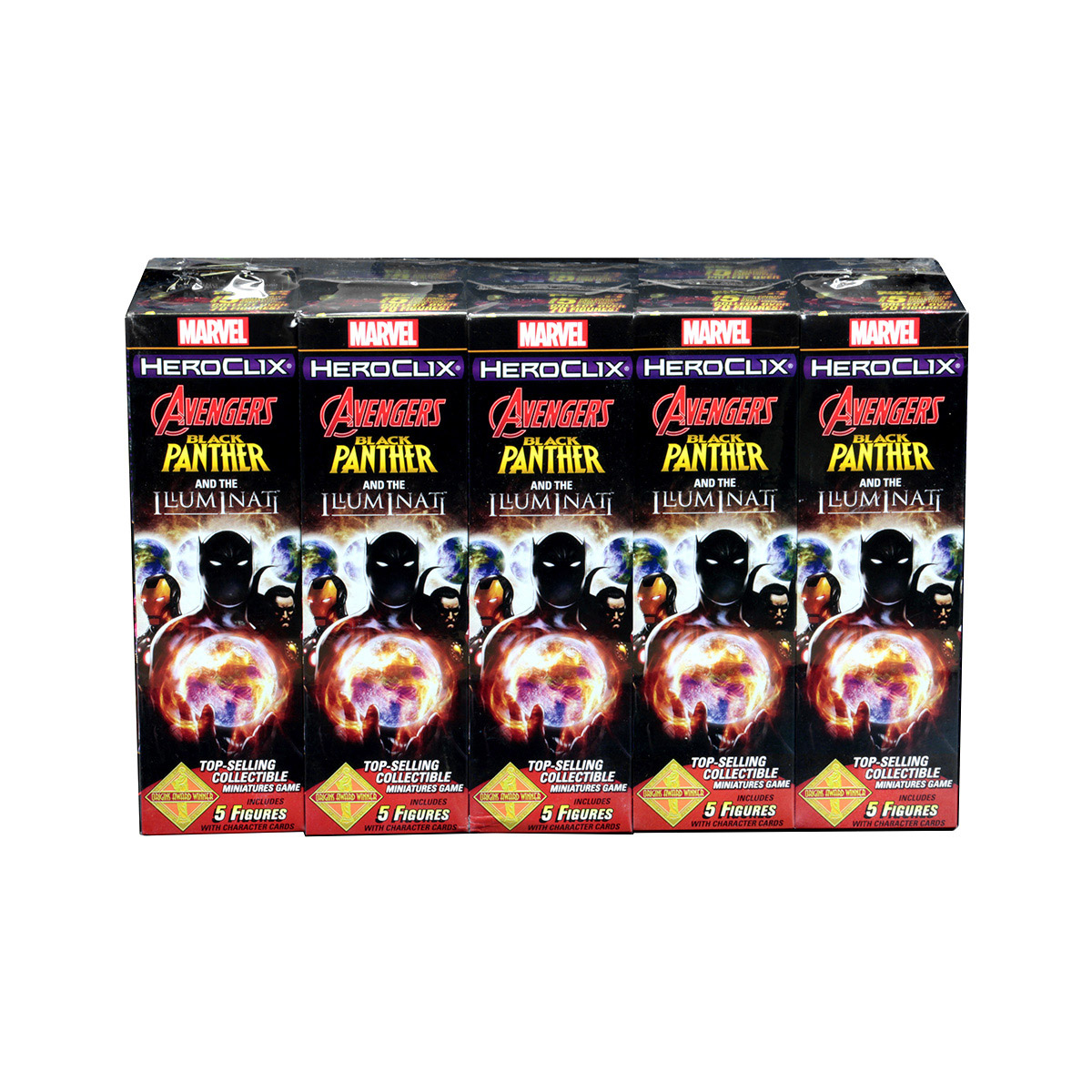 FEB193072
The Illuminati originated as the world's most powerful think-tank, operating in secret and representing the interests of all superhuman communities. They have collaborated and dealt with many threats to the world, including alien wars, cosmic forces, and some of the most powerful weapons in the universe. Eventually the Illuminati found themselves in possession of the Infinity Gems and split them up among themselves for safekeeping. This release features many fan-favorite sub-themes like The Avengers, Wakanda, The Cabal, Elders of the Universe, The Illuminati, as well as brand-new equipment-objects like the Cosmic Cube, Infinity Gems, and the Infinity Gauntlet! Existing and new HeroClix fans will look forward to new figures and objects to power-up their collection in addition to never-before-Clixed characters like Astronomer, Challenger, Eitri, Enigma, Everett K. Ross, Kobik, Okoye, Rune, and more!
In Shops: Jun 05, 2019
SRP: $129.90
PREVIEWS Page #1131